Our Science Communication Approach
The Smith Lab is dedicated to communicating our research to a broad audience in order to improve the application of science to policy and public debate. We engage the public through community and school presentations, news and radio, citizen science, and social media. We continue to branch out into novel mediums, including mobile museums and scientific illustration. We welcome the opportunity to develop new collaborations with writers, artists, and educators to continue to share our work.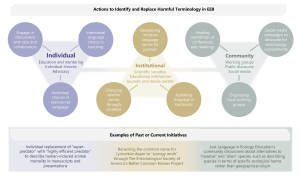 The EEB Language Project
Dr. Justine Smith is one of the founding members of the EEB Language Project, a collaborative, grassroots initiative that seeks to make language in EEB more inclusive by compiling resources and bringing together scientists to explore the impact of harmful terminology on researchers and practitioners in our field. The project is currently working to identify terms that may warrant replacement or additional context for their use. Read our perspective piece on the initiative here.
Podcasts and TV
This is Not a Deer! Something Bit Me!, National Geographic Wild. February 27, 2022.
Is That T-Rex Coming On To Me? (at 3:45) Live from the Poundstone Institute. July 15, 2017.
Mountain Lions Terrified By Voices Of Rush Limbaugh, Rachel Maddow. All Things Considered, NPR. June 23, 2017.
Human Impacts on Ecosystems. The Naked Scientists, University of Cambridge. Radio podcast. January 27, 2015.
Urban Pumas. Science in Action, BBC. Radio podcast. January 22, 2015.
Select Media Coverage
The Atlantic • The Washington Post • National Geographic • Smithsonian • Scientific American • New Scientist • Popular Science • Newsweek • SF Gate • San Jose Mercury News • LA Times • Nature •  Science • Newsweek • Conservation Magazine • High Country News • The Wildlife Society • PLoS Ecology • CBC World News • Eureka! Lab
Outreach Publications
Smith, J. A. 2022. A New Approach to Human-Wildlife Coexistence in Patagonia: Collaborating With Ranchers. UC Davis Public Scholarship and Engagement Blog.
Smith, J. A. 2016. How humans threaten pumas just by being nearby. The Conversation.
Smith, J. A. 2015. Pumas increase kill rates when disturbed by development. Urban Wildife News 11(1):10-11.
Smith, J. A., and L. P. Erb. 2013. Large-scale foraging behavior of the American pika: Linking behavior and environment. Mountain Views 7(2):14-17.
---
Video from: A Rich Tradition of Non-Traditional Thinking: The Legacy of Rachel Carson.  March 30,2017.